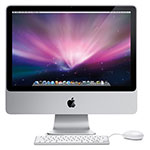 I did it! I went to the other side. I bought a Mac. I've been wanting to be in the group with the seemingly "cool" kids for some time now, but I kept putting it off. However, I couldn't put it off anymore. My productivity is suffering and it's time to upgrade. My reason for going to the Mac was because I'm a Raw foodie and the symbol for Mac is an apple. Hehehe… JUST KIDDING!
For the past many years, I've relied on my trusty Sony Vaio laptop. It's had some issues but because I bought the extended warranty, I was covered when it acted up. I originally bought a slim laptop (vs. a desktop) because I was working in a corporate setting and I needed this for portability reasons, using in bed when working late, etc. But, it's small. The screen is small. And, since I'm no longer working in that environment and I'm usually at home, it made sense to get a desktop. Even though my laptop is falling apart, I will still use it for travel so it's not going into permanent retirement… only semi-retirement.
I'm on cloud nine for a while (a long while I suspect). I can wait until it arrives later this week. I know, I know… it's only a computer. But, I expect GREAT things from this new addition to our family.
I suspect there will be a learning curve, but I'm not sure how intense. As most of you know, I have a BlackBerry (I frequently use this for email – talk about a life changing device for me!). From what I understand, I need to buy some software in order to back up my BlackBerry on my new iMac. Still need to figure all that stuff out. I'm also curious as to how people like Safari? How are the other programs?
Anyone have any advice or feedback?
Similar Posts: