New Chapter in Italy
It's time to start a new chapter in our expat life in Italy. We've been in northern Italy since March of 2019 (with trips to Ireland and Bulgaria during the summer). We've accomplished our goal of becoming dual citizens (for my daughter and me, as of now).
So, what's new for us?
We're moving to the south of Italy.
But, first, let's finish the current chapter in the north.
To begin, we started the countdown to our move a little over a month ago. It was at that time that we had to put in our intention to terminate the lease, and it required a 60-days notice.
There also are a couple of things we are still wrapping up with the citizenship process. My daughter and I wanted to get our carta d'identitas before leaving. These are our official Italian IDs! Whoo hoo.
Additionally, we want our passports(!), so we'll apply for our passports while we're still here in Rovigo. It'll be much easier here, where the legal team is that helped us with citizenship.

In the meantime, we're also waiting for Greg to receive a call from the local police station that his permesso (permission to stay card in Italy) is ready for pickup. We expect that to be available by the first week of December. Fingers crossed.
Big moving day is coming… We move December 13!
We have decided to go to the South of Italy.
There are a few reasons we want to go south. For starters, my family comes from the South, specifically Sicily. And although we are still considering a move to the island of Sicily, or even Sardinia, we decided to try the region of Puglia first. This is because Puglia, on the mainland, is one of those regions that is not super popular (yet), but showing the beginning stages of popularity. People are beginning to see how amazing it is. I want to get in on the beginning of that… before it gets overrun with too much tourism like Tuscany.
Cheaper Living
The cost of living in the South is generally much cheaper, but it's even more interesting because Italy now offers (for 2020 and beyond) enticing tax benefits for expats. They're available all over Italy, but they are especially nice in the South.
Living in the Slow Lane
I also want to experience the South in general for the reputation it has of slow living.
People say that the North and South of Italy are very different. Although we've only experienced living in a small town in northern Italy, which would be very different from a larger town, I'm curious to see how different and in what ways the South is. Don't be surprised if you see pictures of me rolling pasta on my future terrace or door step. ;)
Water for "Blue Mind"
I also like the idea of being in close proximity to the water. Puglia is the region that is nestled between two bodies of water (Adriatic Sea and Ionion Sea), as it is the heel of the boot.

…there are psychological benefits to hearing water (ocean, natural, or water features) including increased creativity and benefits for mood (stress reduction). There's even a name for it: Blue Mind. According to marine biologist Wallace J. Nichols, author of Blue Mind, the term blue mind refers to the mildly meditative state we fall into when near, in, on or under water.


https://kristensraw.com/blog/2019/08/12/6-reasons-like-bansko-bulgaria-summer-travel/#more-14776
I'm also excited for whether that is a little bit warmer in the winter.
Two Cities: Martina Franca and Lecce
I looked at a lot of different cities in Puglia as potential places we could live. I narrowed it down to two that look very good on paper.
I have a list of considerations that allow a city to be on our list. In no particular order, the following are important to us.
The size of the city and the population. Although I think I would enjoy a city that is 10,000 to 20,000 people in population, oftentime cities of this size are not as well connected with transportation such as trains or airports. It also doesn't have as many amenities that might be nice for a family. I imagine a sweet spot of a population size for me would be 30,000 to 50,000 people.
The town must also be very walk-able. We won't have a car and I want have easy access grocery stores, gyms, activities, butchers, cafés and restaurants on foot – rain or shine.
There must be a gym in the town. Working out is a priority for Greg and me. According to Dave Asprey's book, SuperHuman, even a single session activates stem cells. I plan to live well past 100 years of age and working out regularly helps me get there.
As I mentioned, a train station is important. This way we can explore Italy by just getting to the train station. Being in the south will already put us a ways away from places we've yet to explore like Naples, Rome, and the northeast of Italy, so being near a train station and/or airport is a priority.
It must have a beautiful historic city center. I really am after quintessential Italy with old buildings, balconies filled with flowers, older people sitting on park benches talking animatedly with gestures, and cats running around. Lots of cats.
We want amenities for Kamea, such as afterschool activities like dance classes, sports, art classes, etc. It would also be nice if there was an Italian language school for us to learn.
And last but not least… a hospital.
Martina Franca
The two cities we're considering are Martina Franca, which has a population of 49,000 people. And, Lecce.
But, first, Martina Franca… it's a hilltop town in Puglia that is, allegedly, popular with some expats, yet it's not touristy. This is great because it means making friends quickly and finding English-speaking experts about the area.
It also means that most of the Italians speak only Italian since it's not touristy, and I like that. It's more authentic and helps me learn faster.
That's the best of both worlds.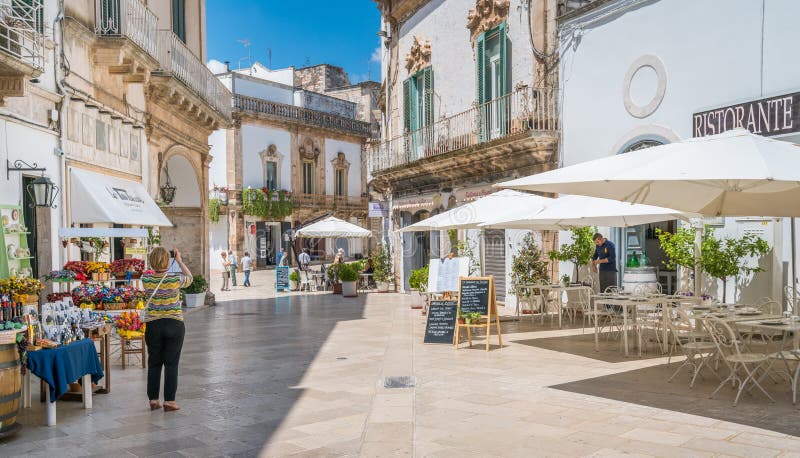 Lecce
The other city drawing me to it is Lecce, which is bigger, with a population size of 95,000 people. Maybe too big, but my research says it's a super beautiful place and extremely walk-able in spite of its size. Lecce is known as the Florence of the South because it is filled with so much art and history.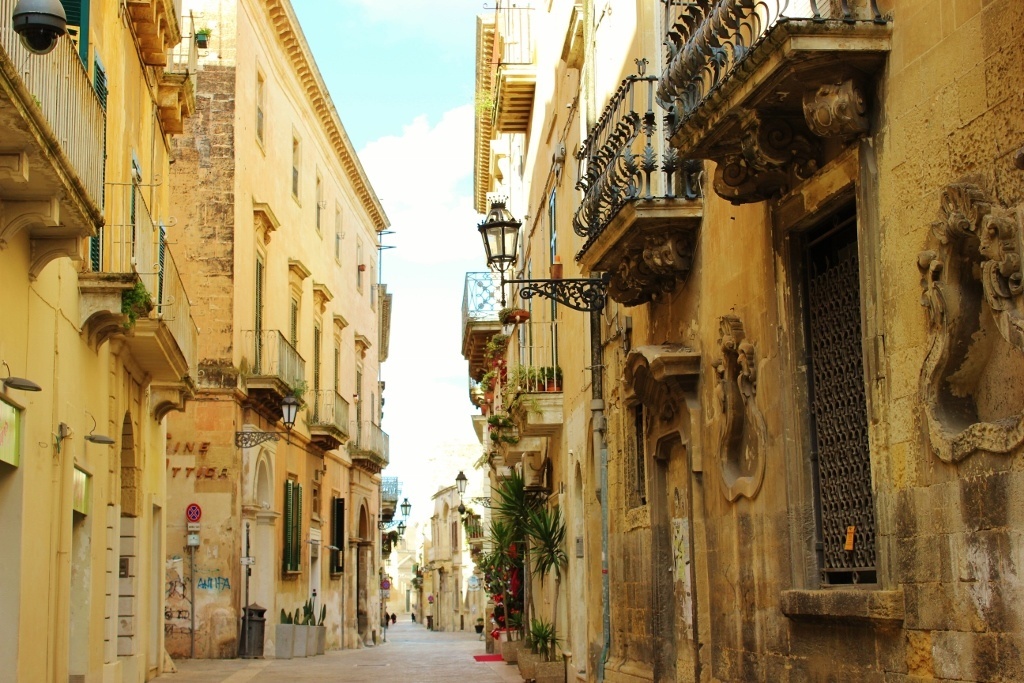 There is also university there. Typically, I would think the University would be a good thing because it would mean there's a younger population there. That said, my experience in the city of Bologna (with the oldest university in continuous operation) gives me mixed feelings. I liked seeing all of the young people and feeling their energy.
However, it was also filled with university students who frequently sit on the sidewalks smoking. And I really don't like that. You're engulfed in smoke as you walk along the street. And, forget about sitting outside in a cafe to enjoy the sun because everyone out there is smoking, too. (Well, truthfully, that's most of Italy I think, and especially so in a university town.)
BoxOK.it – What is that?
I'm so excited about our move and I've already started packing! I've set aside a box of stuff to give to our neighbors and their daughter.

However, as you might imagine we've accumulated more than a few things since having this apartment. These are things I'd like to move so I don't have to buy them again.
At first we didn't know what we were going to do. We figured the best plan was to rent a car and pack up as much of it as we could. Then, drive to Puglia, return the car, stay in an AirBnB rental for a month in Martina Franca and see if we liked the area.
Then(!) rent another car, pack it up (again) and move on to another city… and so on and so forth… until we find where we want to live for the next 2 to 5 years. It means moving boxes from city to city more frequently than I'd like. And, what if we don't like Puglia anyway?

It was a less than ideal situation but at first we thought it was our only option.
But when Greg looked into storage options he found the perfect solution!
It is so cool.
It's basically door to door storage. The system is called BoxOK.IT and here's the gist of it.
We order boxes from them. (These boxes are all the same size and they are neither too small nor very big.)
They deliver the boxes and tape, and the boxes are already addressed to go back to the storage facility! We pack the boxes, and then notify them to be picked up.
They come and pick up the boxes right from our apartment, and take them to one of the many storage facilities around Italy. At this point we pay 5 euro a month per box to be stored. When we are ready for our boxes we simply notify them and they deliver them to our door. That's it!

So basically 5 euro a month, per box, includes them picking it up at our place in northern Italy, and later delivering them to our place in southern Italy. In the famous words of the movie, White Men Can't Jump… "This shit is TOO easy!"
For us that might mean anywhere between 5 to 10 boxes, and were able to keep the things that I've already bought like pots and pans, my salt lamp, towels and nice linens and pillows, my fancy espresso coffee pot, etc.
I imagine we'll use the service for about 4 months. At that price of about 20 euro for that time period, for a box, I'll have to ensure that it's not just easier to give stuff away and buy again later in the south.
Exciting Times Ahead… or Scary?
When we moved to Rovigo it was an easy move, in spite of coming to a country where we didn't know the language beyond the words pizza, gelato, and caffe.
That's because we had the company ICA who helped us with getting my citizenship. They also helped us set up an apartment, utilities, Internet, bank account, etc. I just signed everything they told to, trusting. That would have been an enormous challenge with the language barrier if I didn't have help.
When we move to Puglia we're essentially on our own. If we end up in Sicily that's a different story because I might be able to find my family. But, as of now, showing up in Puglia with our suitcases and a little Italian language under our belt, we'll be attempting to find an apartment and rent it all on our own. Yikes?
Initially it seems overwhelming and scary, but at the same time it's incredibly exciting and a really cool challenge. I'm up for it, and, besides, it promises to provide some good stories to tell. Stay tuned.
Similar Posts: